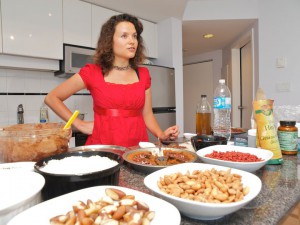 Julia Di Bona aka Julia Ganswind – Raw vegan chef and manager/assistant to fellow raw vegan culinary artist and sister, Patricia Ganswind. She worked with Patricia in the kitchen since early childhood and was a great support for Patricia's later culinary career.  Julia focuses on holistic means to bring out the best potential in people through motivation and synergizing only the highest quality foods in order to thrive for a healthier, balanced and optimum lifestyle.
Julia made the switch to become vegan at the start of the millennium.

She recently  won "Best Raw Vegan Dessert" at a Dessert Buffet Contest and is always working on new, exciting and delicious recipes that make people healthy and their taste buds happy.
Aside from her great passion for food, Julia is an ever-evolving artist from Berlin, Germany. Today living in Vancouver, BC, Canada, she sees art as a great tool to share her deepest heartfelt dreams with the community and the whole world.
Her art was showcased at the international Lab Art Exhibition at the Roundhouse in Yaletown and recently exhibit as part of the fundraiser Event at DIVERSEcity's Community Campus in Surrey,BC,Canada.
Julia believes you can feel and look great, educate and inspire the people around you at the same time, leading to the collective and positive co-creation of a peaceful and sustainable world!
Follow her in the world of Instagram: https://instagram.com/juliadibona/